🔗 GTG Links 33 – In these turbulent times, news and updates will continue until morale improves
This week's is a looooong one. There's a lot going on. At the same time, it seems like a sheer indulgence to post about videogames – even inflected through the important lens of sustainability and climate – whilst daily in Gaza hundreds of civilians are killed and entire city blocks are flattened under the flimsiest of pretences of 'self-defence'.
As Gustavo Petro the President of Columbia correctly identified, the world is planning to deploy this model of selective disposability in defence of Western countries, when the climate inevitably creates ever-greater flows of refugees to the global North:
The West defends its excessive consumption and its standard of living based on destroying the atmosphere and climate, and to defend it, knowing that it will cause the exodus from the south to the north, and not only of the Palestinian people; he is ready to respond with death. It does not want to transform its economic system except as far as the market goes to decarbonize it. And he knows that the effort will be minuscule to save life on the planet. His policy seeks to defend the consumption bubble of the rich on the planet and not save humanity, whose majority is disposable, like the children of Gaza.
These are the existential stakes we face across the century ahead, and we are fast learning just how much ordinary people power it's going to take to shift established interests, and resist the powerful forces of ruthless states. It will take the mobilisation of ordinary people to shove these systems towards affirming life, away from apartheid, towards justice.
We can't wait for the market, or for the slow cycle of the ballot box to deliver it, just like we can't wait for either to decide climate action is "cheaper" or "more efficient" than the alternative (extinction). Markets have no conscience, no grandchildren to think of, states don't weep or mourn for anyone. We can only save each other, and in the process save ourselves. In Gaza, as across the whole world, the choice is clear: liberation or extinction.
---
Once again, with little to no warning, my book is 50% off – for how long, I have no idea! Price seems to apply to the ebook, softcover and hardcover versions.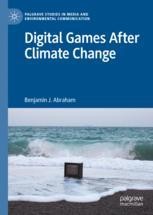 And as a reminder, I don't see a cent from sales so if you'd like to read it without forking out ridiculous sums of money, you can always ask me for a copy. 😉
The best way to financially support my work is to become a GTG Supporter right here, and which conveniently also gives you access to the full GTG Links post each fornight (plus a special little deal coming in the next few weeks, applicable to our first ever sustainability benchmark report).
GameIndustry.biz did a nice, longer profile on Die Gute Fabrik's Saltsea Chronicles digging into why they asked us to do the climate report. I added a couple of comments to this one as well for context.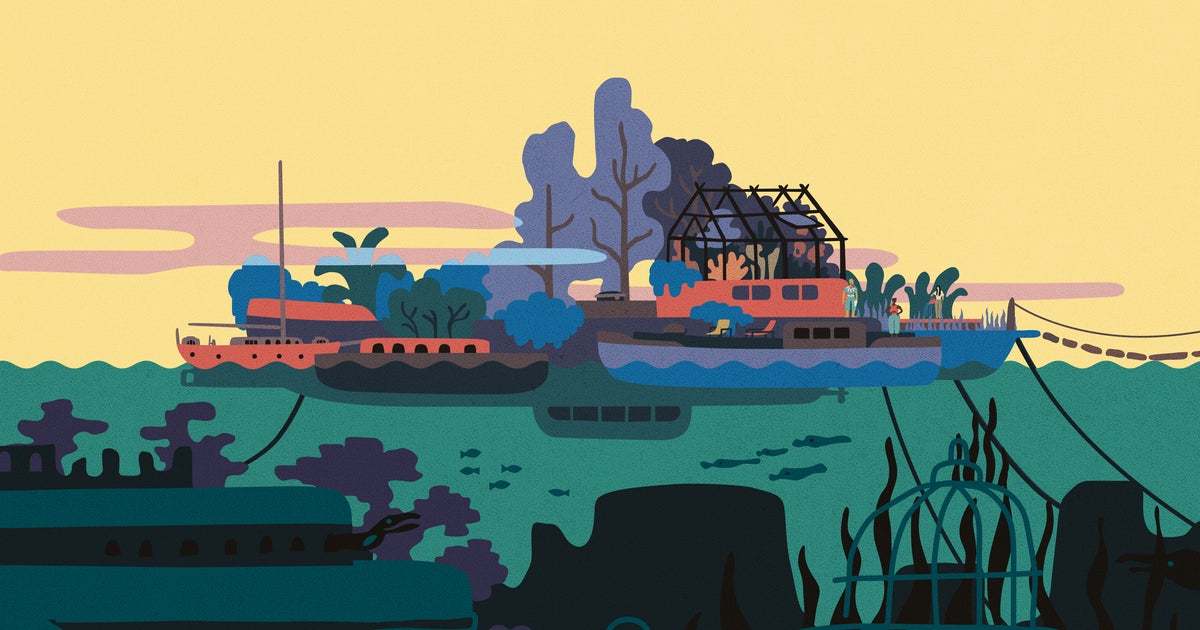 P4PA's new report is out
And the big, big, BIG news this week is that the Playing 4 the Planet Alliance has a massive new report, full of details. The report's main authors at Carbon Trust, along with several P4PA member orgs, have contributed important new guidance on some of the most pressing issues around corporate decarbonisation in this field:
"Where are the biggest sources of emissions in games? Who is liable for them? What areas to address in the years to come? For the past 12 months, members of Playing for the Planet have been working with The Carbon Trust to try to bring clarity to these questions."
Direct link to the full PDF is here. I will definitely have more to say about this in the weeks ahead, but my initial take is that the Scope 3 recommendations are absolutely essential reading for anyone in an ESG role that touches on gaming. If adopted widely, not only would it make my life easier, but it would probide exactly the sort of standardisation that has been missing from Scope 3 disclosures in the games industry.
This is something I pointed out in this years Net Zero snapshot. Remember this rather awkward and ugly chart? Solving for a standardised Scope 3 disclosure methodology across the entire field would avoid me having to draw little boxes and arrows across to show where I think a more complete (and more honest) accounting of emissions really are. It would also help some of the industry leaders from feeling like they are being penalised for being more thorough than others, which, fair. It could also unlock more ambition across the board. So it's a pretty good idea if you ask me.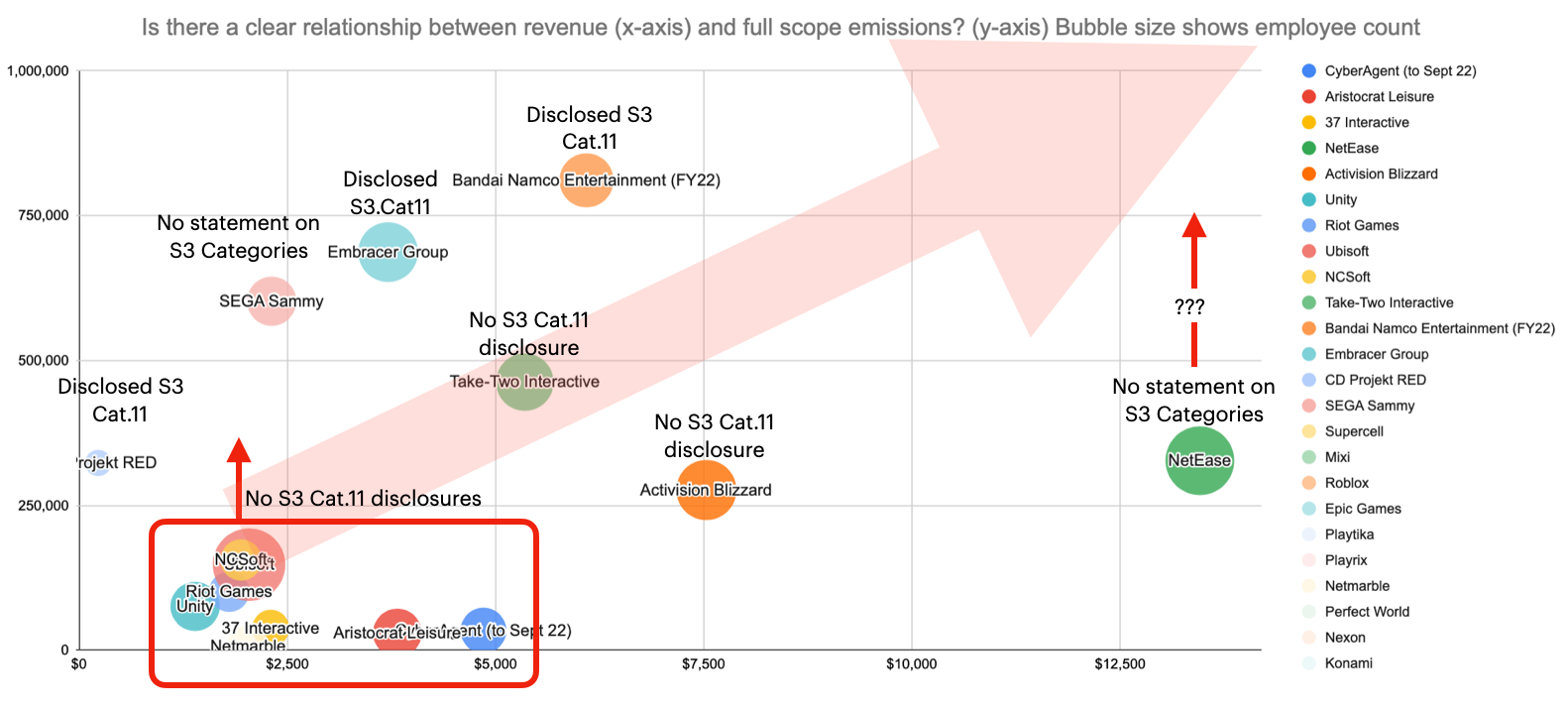 I've included the full page of the main Scope 3, Category 11 recommendations (i.e. end-user/game play emissions) from page 62 of the report. The key one for me is reccomendation 3: "When significant, video game companies should account for the category 11 emissions of their video game software products". Of course we could quibble over what 'significant' means here, but there's also guidance on what equipment (consoles, TVs, controllers, routers, speakers, etc) are worth trying to caluclate and including for, and which are not. Might have to revisit that one later...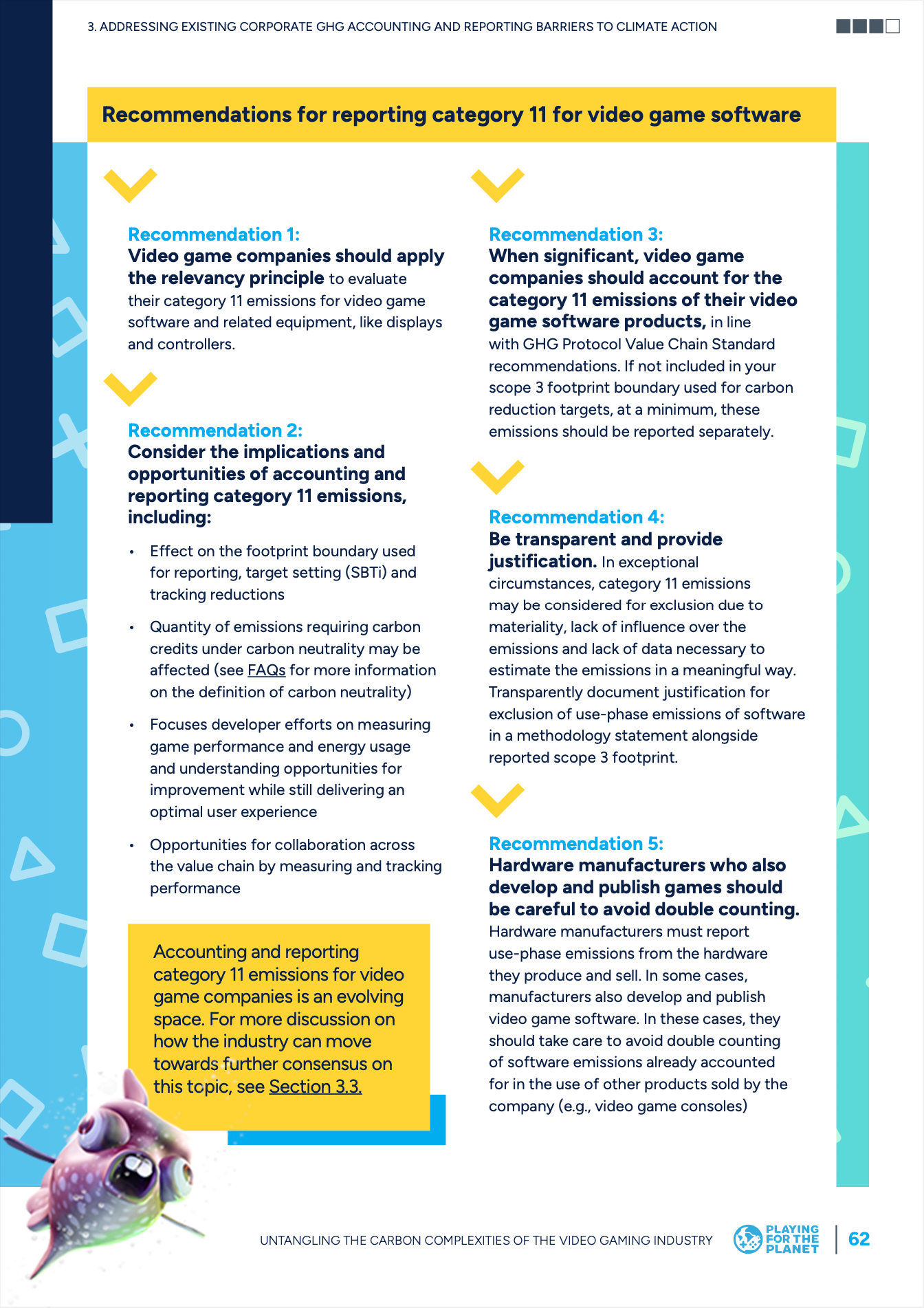 Also nice to see elsewhere in the report that another recommendation (at least, for further research – though I think there's plenty already, and some implementation would be nice!) is on the impact of next-gen hardware design on emissions, including via energy consumption.
Nice to see that foregrounded, as it's explicitly a recommendation that I took to the EU voluntary agreement on console energy efficiency last year (and wrote about the somewhat dissapointing response I recieved). It's a topic that I've been asking for greater focus on from the industry for some time – in fact, it was my very first ever newsletter post for GTG. Others have raised it as well.
It's not a problem that's going away – in fact it's most acute in this decade and the next. Perhaps, if we are lucky, by 2035 we will have largely decarbonised power systems in line with the G7's ambitions, but given that the EU – a world leader in renewables – has only just raised ambitions for 2030 to around 42.5% of all electricity... well, I'm not a betting man, but the 2035 target is looking like it will be a stretch to say the least.
Microsoft/Sony/Nintendo are you listening? Enough with the power increases in next-gen consoles already!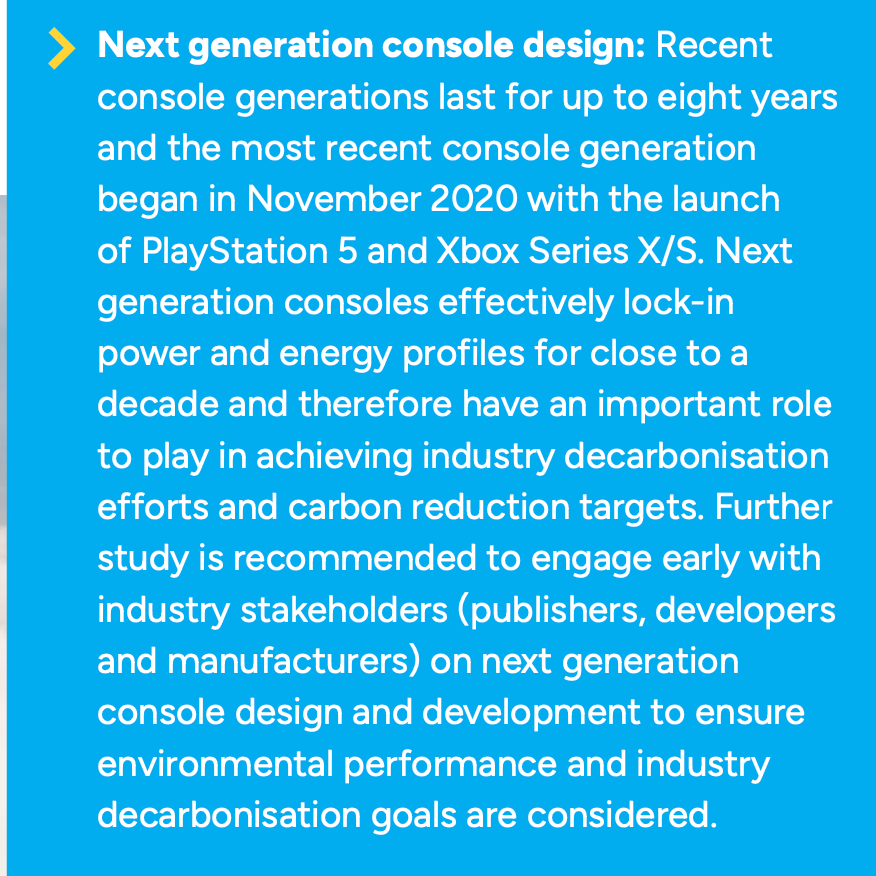 Mea Culpa – an update on Google's y-o-y emissions change in the Net Zero Snapshot
This week, I was approached by a member of Google's gaming DEI & sustainability team, who queried the year-on-year figures contained in the Net Zero Snapshot – I had it down as +18% initially. When I went back to the Google disclosures to double check I immediately saw where I had gone a bit awry. I'd taken a comment (highlighted in blue) which referred to the difference in calculations resulting from a methodology change, misinterepreting it as an absolute year on year change. Such is the frenzied final dash of data collection in getting the Snapshot done that I made a little mistake there.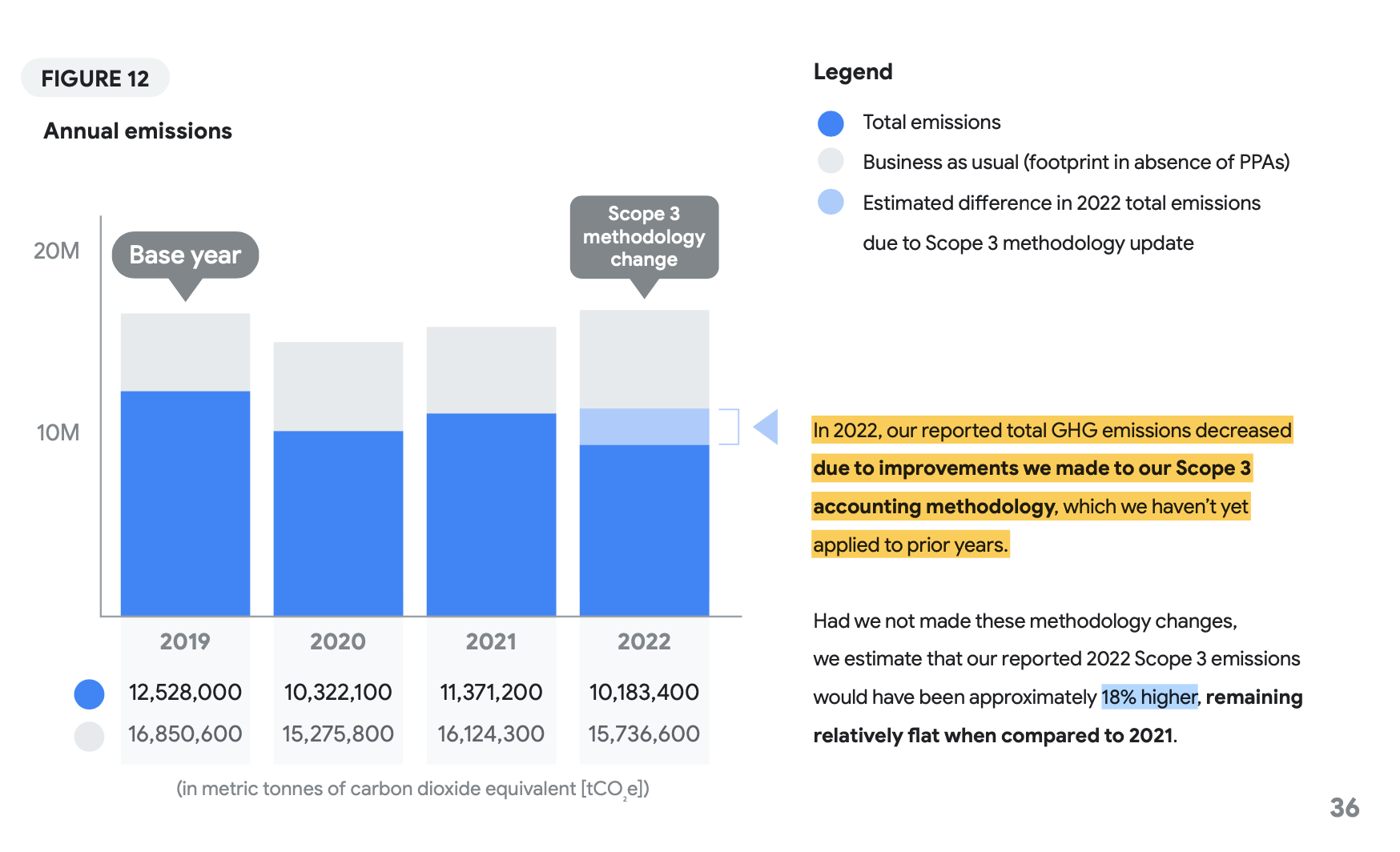 The snapshot page has now been updated with the correct y-o-y change for Google, which is no longer +18% and instead a much more modest +1.58%. As always, if you spot an error or simply don't understand something in my calculations or reasoning, please reach out.
Presumably going forward, with the new more accurate methodology, we'll continue to see Google's numbers drop further next year, and start seeing the y-o-y shift negative. Here's hoping!
After the paywall:
Projections for solar PV dominance; the CO2.js library; some disucssion of an anti-ESG diatribe in FT that I found... strangely clarifying?; an interview with Just Stop Oil protesters from EGX; new research on the shocking quantities of water used in AI training; and of course it wouldn't be another GTG Links post without more bad news about collapsed carbon credit projects and failures of integrity.
It really is a bumper crop this week.