Hey kid, wanna build a wind farm? (in Fortnite)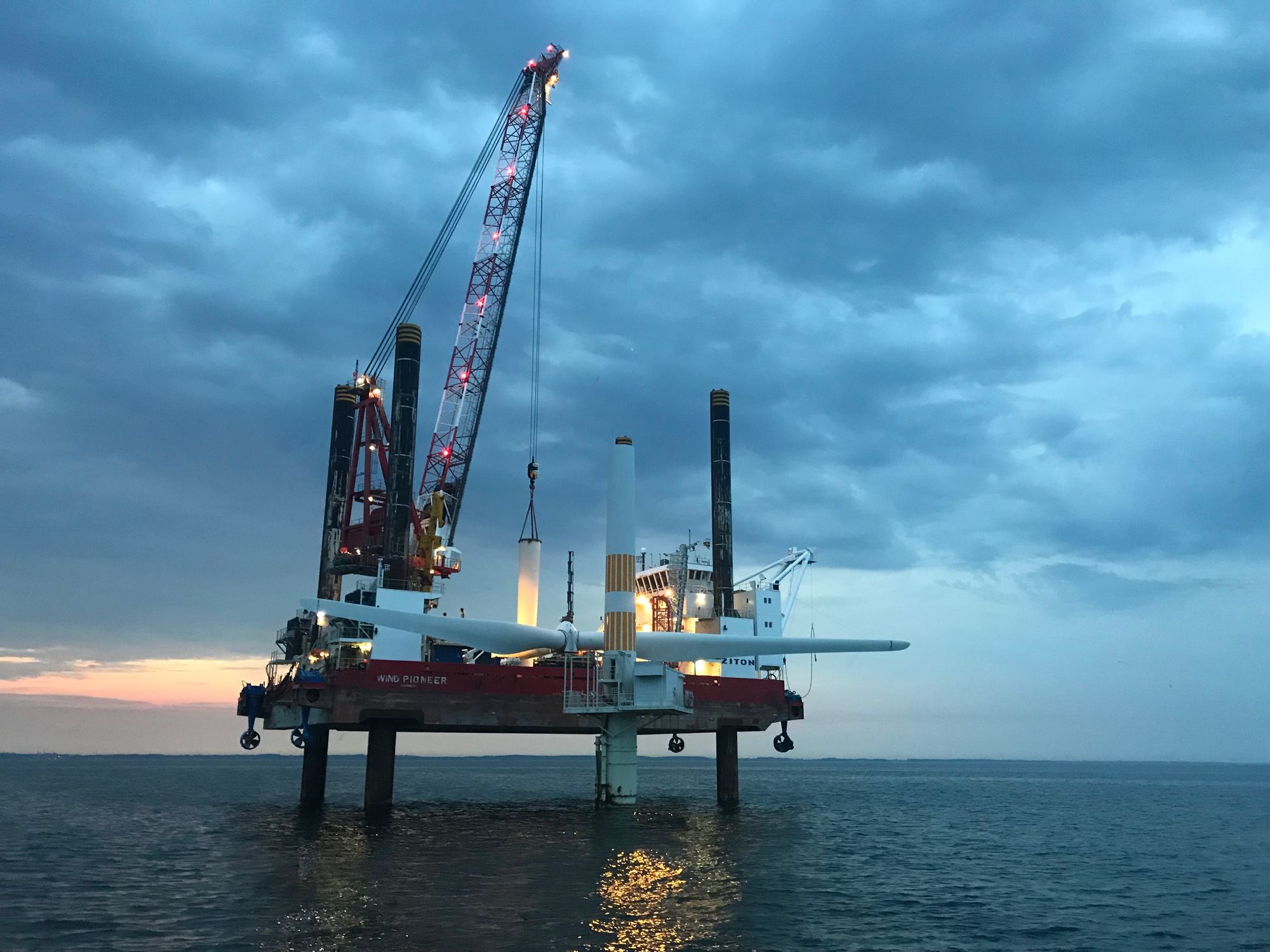 Way back in the dim dark ages of December 2000, a small offshore wind turbine was commissioned and began producing power just off the coast of Sweden. Tiny by todays standards, it consisted of just 7 pylons, each with a capacity factor dwarfed by the modern monsters of the renewable revolution. Each turbine was rated at a mere 1,500 kW and in total the entire site only made about 80 MWh per day – enough to power about 6,500 average US households. It was decommissioned in 2018, having produced clean, renewable electricity for almost twenty years, and the end of life decommissioning processes (according to the decommissioning report) "should come as a relief to the industry as it has now been demonstrated how efficiently offshore wind turbines can be decommissioned." A real good news story.

I tell this story of the little wind farm that could because this complex social and technological feat - from proposing and permitting, to building a wind farm in the ocean, operating it, and then decommissioning it – took hundreds of people and businesses literal years to achieve. By contrast, Epic Games had almost the same effect with what sounds like a couple of months.
At GDC last month, Xbox's sustainability team leader Trista Paterson explained that the new energy consumption tools Microsoft has developed allowed Epic Games (the makers of Fortnite) to save the same amount of daily power across the entire Fortnite player base as the entire Utgrunden wind farm produced when it was operating – 80 MWh a day. Game developers now have the ability to build the equivalent of a wind farm in energy efficiency and power savings. They did it with code – and it sounds like it didn't even take that much effort? Its all small changes to frame rate and resolution in menu screens.
Crucually, this reduction process can also be validated by the Xbox certification team, so for those so inclined, a certification of savings like this could eventually lead to programs of financial (or other) incentives that recognise and drive further optimisations in games energy demand – though that's clearly still a long way off. (I should add that while I'm leery of the impulse to financialise carbon and emissions reductions, if it's done right it could delivers results that are hard to argue with. I'm not generally a fan of the masters tools approach to dismantling his house, but that's a discussion for another day).
I did a write-up of the session for GamesHub with a bit more detail about how the system came about and what it means for wider sustainability efforts, and Xbox have done a nice, detailed blog-post about the main features as well. Check it out for more – if you are a game developer interested in finding ways to reduce end user energy demand with tools like this I strongly encourage you to get in touch with the team. I think they've set up an email address for a first point of contact, so they can track the impact of these new tools.
And if you don't have any ideas for where to go looking for these sorts of energy savings, I proposed some in my book Digital Games After Climate Change – get in touch if you want to chat about it more. I'm very keen to see where else we can claw back some unnecesary energy use from games with big audiences. I should also probably mention that my own assumptions about the potential for energy savings through software were wrong! I figured that any slack in computing power made by savings would be eagerly taken up by artists and game directors looking to squeeze more out of the hardware. This approach, of finding wasted power, makes that assumption less relevant. More than glad to be wrong about this one!
What else happened at GDC?
I mainly went to the sustainability sessions, of which there were a good number this year. An encouraging trend, but I still feel like GDC almost needs an entire sustainability track – between last year and this year, session attendance was all over the shop (even at the big Microsoft event described above). That's partly just GDC – scheduling and programming against other highly important sessions creates an inevitable conflict, and attendees at GDC are a fickle trend-driven group, but I still can't help but think there needs to be more (open!) dialogue between games companies on sustainability and ESG. The Playing 4 the Planet Alliance does a lot in this respect, but its also a bit of a walled garden.
Speaking of P4PA – Sam presented the P4PA's new "Climate Check" tool, which is an interactive quiz that game developers can do to reflect on what their organisation has already achieved and what more they could be doing. As something to point the climate questioning to as a place to start, its not bad. Sam also mentioned that they are collecting the results and I hope it gives a better sense of where the action is happening (and where it isnt). The P4PA mixer was also a highlight, with a talk discussing some interesting research from Google on consumer attitudes to sustainability and a great opportunity to chat with other ESG leaders in the games industry. Looking forward to catching up with some of the people I met there in the weeks ahead.
There were two roundtable events touching on climate and sustainability this year, both pretty well attended which was encouraging. The roundtable format is not my favourite, but it does let us see the huge range of people from across the industry that are starting to ask questions about what games and game developers in different roles can do. From sound and audio people, to narrative, design, investors and NGO representatives – climate cuts across the whole industry, and awareness is growing.
I also really enjoyed the Terra Nil talk by Sam Aldred – the team's engagement with ecological themes and ideas was deeply impressive, and set a high bar for green games and how thoroughly they can think-through the implications and embody some of nature's complexity. I would have loved to see the same focus and attention on the game's production process though.
The final day saw Arnauld Fayolle's presentation on how any game can help in the climate fight by finding its unique potential, it's angle for intervening in climate and environmental ideas – which is a more tailored approach to green game activations that reflects the centrality of the audience (and creators!) specific lived contexts. Arnauld has been a leader in this space for ages, and knows what he's talking about. Catch it in the vault when its up.
There were also plenty more parties and chats and catch-ups with some fantastic people across the industry. In general I remain optimistic that games are moving in the right direction – but it's a big ship to turn, and we're going to need an even bigger crew. We also need to speed up the rate of change, which is maybe our biggest challenge.
On a less positive note, I also caught Covid for the first time (that I know of) at or on the way to GDC, and it really messed me up a bit – which is why it took so long to get this newsletter out. I did basically nothing all last week, was totally laid out, and I'm still catching up. C'est la vie! It means there's another huge backlog of great news to post at the end of the week though, so look forward to that.