Announcing AfterClimate's first annual game industry net zero snapshot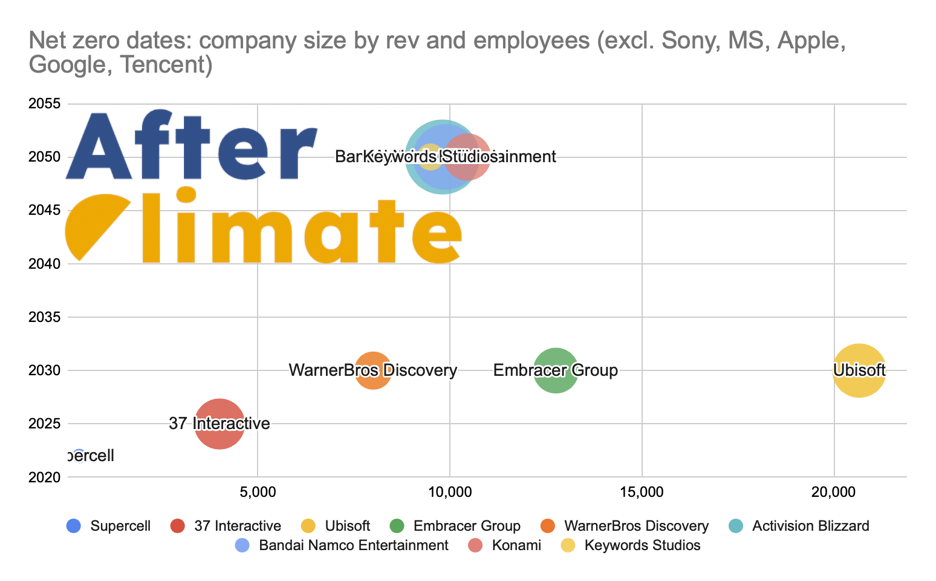 It's here. The first (to my knowledge) attempt to collate all of the net zero pledges, sustainability announcements, ESG metrics and other disclosures from the biggest game companies in the world. There's also a detailed spreadsheet to pore over with all the comparative net zero dates, key announced projects, and critical excerpts explaining each company's goals and approach to ESG issues. The spreadsheet includes a link to the original ESG disclosure document and some additional commentary on each from me. As the centre-piece, I am presenting a short summary on the AfterClimate website with key findings and takeaways from the project. I also answered some fantastic questions about the snapshot before its release for Kotaku journalist Luke Plunkett, so keep an eye out for that piece in your feed in the next day or two.
What else can I add now that this project is out? A few more comments that GTG readers might appreciate below.
Firstly, I was quite surprised by the overall picture, and in a really positive way. There was so much more action than I was expecting going into it. I think I mentioned in a links post a few weeks ago getting excited at the prospect of a TCFD materiality disclosure in games when I saw it was on EA's to-do list. In fact, I can now say that there are already a few of these around, and they are surprisingly different for each company, despite sharing similar themes. As an exercise, the TCFD materiality disclosure actually probably reveals more about corporate priorities than the likely systemic impacts of a changing climate might be. I'll try and write a bit more about this in a later post.
The second observation that emerges from the snapshot is that it is incredibly easy to tell which companies are taking it seriously and which are taking the piss. I'll show what I mean in another future post, but it goes deeper than just the choices in ESG art (though I think the two are related). Who is putting in the work, who has only just started to think about their environmental footprint, and who is completely asleep at the wheel is absolutely clear from ESG disclosures, and I hope this encourages more people to pay attention to them.
Third, compiling this data showed that there are quite different national corporate cultures that feed into these ESG practices, flavouring both the documentation and the corporate focus. Western countries, even the ones doing absolutely nothing, pretty much all have to at least nod towards ESG imperatives. Roblox corporation, for instance, has an "ESG highlights" heading in its annual report despite saying nothing at all about its environmental impact. To me this was, quite frankly, staggering. Why include it then, after all? Here's the table of contents, just look at those subheadings to see what I mean:

While there's really no 'E' to speak of in the ESG section of the document, the fact that ESG as a concept exerts enough influence to produce an entire section heading despite having zero environmental highlights to share, is quite something, and shouldn't be overlooked.
Which leads to another observation, which is there is something quite powerful in being a publicly traded company and the forces that are brought to bear on them. As much as I will be the very first in line to criticise corporate capitalism's destructive history of extraction and exploitation, the current regime of ESG disclosures and expectations amounts to something real. It's not a perfect system, not by any stretch. It's still largely driven by the slowly evolving political and investor consensus that climate change is really happening, and that it is (or will be) more profitable to act than to wait-and-see, as more ice caps melt and forests turn to ash. There are gaps and loopholes in it too, and it is still too easy to do a little bit of light greenwashing and not really face any sort of challenge or pushback. But the net zero pledges outlined in the snapshot – if acted on and achieved – stand to make a real, lasting impact on the emissions intensity of the games industry, at the most critical time. It can't come soon enough.
The last point, which I underscored to Luke in my comments to Kotaku, is that the supply chain engagement being done by Microsoft and Sony (and to an extent by Apple, Google and Tencent as well) are really where the action is happening. I have almost zero direct visibility on this part of the games industry, only knowing what I do through hearing from people involved with such things, as well as by reading the codes of conduct themselves (where they are public) but if these five companies (plus Nintendo lol) really are serious about their net zero pledges and are determined to include Scope 3 emissions in their pledges? Well then, strap yourselves in because shit is about to get wild, as there are 7 years left to achieve some of these targets and millions upon millions of tonnes of CO2 are about to enter the crosshairs of some of the most well-resourced companies on the planet. we might hate that it's up to corporations, but ultimately, its the people working at them that are the ones making it happen. It's always people. Just people trying to do the right thing, always it probably always has.
Do you get why I am kind of excited though? I think we may be turning a corner in the games industry, and I'm really looking forward to getting stuck in and figuring this stuff out along side some of these people and groups. It's a big ship, it's going to take all of us. GTG subscribers though are coming along for the ride – you get front row seats to the transformation. Finding new levers of power to pull on, nutting out new plausible pathways to decarbonization is enough to get me out of bed on a cold morning – I hope it is for you too.
The net zero snapshot is in part made possible by GTG supporters. Thanks supporters!